While the holidays in San Jose will look a bit different this year, there are a number of safe and physically distanced ways local families can enjoy the season. Here are some of the upcoming holiday events in San Jose and other ways to celebrate this year. Please wear a mask and keep a safe distance from others when attending in-person events or checking in at any drive-thru events.
List curated by me, Cassie Kifer, author of Secret San Jose: A Guide to the Weird, Wonderful, and Obscure. For more local stories and things to do year-round, pick up a copy of the book here.
Know an event I missed? Let me know, and I'll add it here!
Christmas in the Park – Drive-thru event – November 27 through January 3 – $10-20/vehicle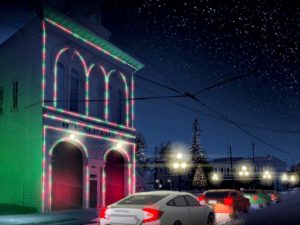 San Jose's much-loved downtown Christmas in the Park celebration normally draws crowds nightly all holiday season. This year, with the help of History San Jose, the event has been converted to a drive-thru format, still featuring hundreds of decorated Christmas trees but in a new striking venue, History Park. With 32 original and reproduction homes, businesses, and landmarks all decorated for the holidays, History Park offers vintage charm to this event. And yes, Santa will be there, waving to guests from his sleigh!
Fantasy of Lights at Vasona Park – Drive-thru event – December 4 through December 30 – $20/vehicle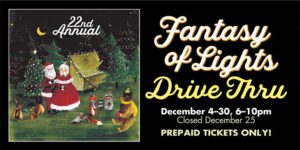 Fantasy of Lights was social distancing way back before COVID made it the norm. Now in its 22nd year, this annual drive-thru holiday event allows guests to drive through large, animated holiday light displays, including a 90-foot twinkling tree, while listening to seasonal music on your car radio. The event will have more than 50 fantastical themed displays including an erupting volcano in the Dinosaur Den, Santa shooting hoops, a pen of playful penguins, and Pirate Cannons, sailing through tunnels of moving lights.
Fiesta Navideña – In-person event – Friday, Dec 11 through Sunday, December 13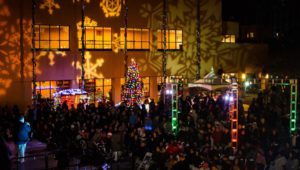 While, Fiesta Navideña, an annual holiday celebration at the School of Arts and Culture at Mexican Heritage Plaza, is usually celebrated on one night in December, this year the organizers are lighting up the 6-acre plaza for three consecutive nights so that they can limit the flow of guests and keep the crowds down.
This walk-thru community experience will include some cherished Latin American holiday traditions like the Posadas, holiday music, art installations, and interesting photo opportunities. The organization says they want to offer joy, hope, and tradition for the Bay Area at the end of a very challenging year.
(NOTE: Photo sourced from a previous pre-pandemic event.)
Festival of Trees – In-person event – December 5 – 9 am to 4 pm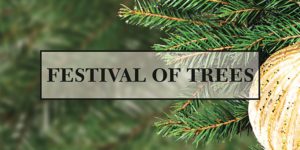 This year the Elizabeth F. Gamble Garden in Palo Alto is hosting their first-ever, outdoor Festival of Trees, sharing holiday trees donated and decorated by individuals, organizations, and businesses. All the trees will be available for purchase by silent auction. This free event runs all-day December 5, with timed admission. Free registration is available on their website.

For those missing the annual tradition of family walks through Christmas in the Park, the San Jose Downtown Association and local partners will be decorating Plaza de César Chávez with lights in the park's existing trees, some additional lighted trees, including a 26-foot-tall stylized tree on the stage, as well as sparkling arches.
Free Photos with Santa at Bass Pro Shop – In-person event – Through December 24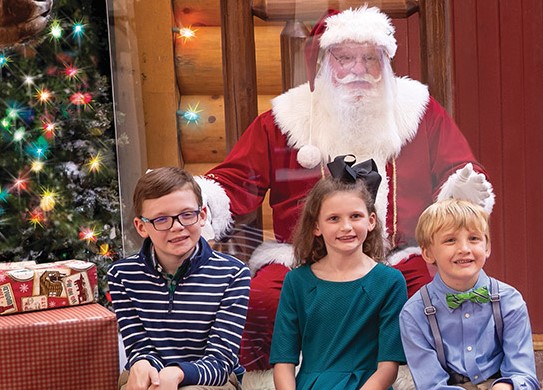 From now through December 24, Bass Pro Shop (5160 Cherry Ave.) is carrying on their annual tradition of offering free photos with Santa in a new socially distanced way, with Santa sitting safely behind an unobtrustive plexiglass wall. Families will receive a free 4×6 photo print and a sharable video by email. Advance reservations are needed and a time slot can be booked here.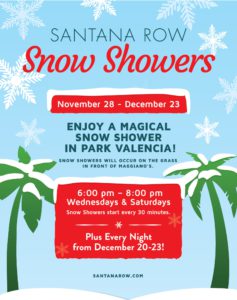 Santana Row is bringing the North Pole to San Jose this year with snow showers & holiday tunes in Park Valencia (in front of Maggiano's) at these dates/times:
Every Wednesday & Saturday starting November 28 – December 23, 6:00 pm – 8:00 pm, every 30 minutes
Every Night December 20-23, 6:00 pm – 8:00 pm , every 30 minutes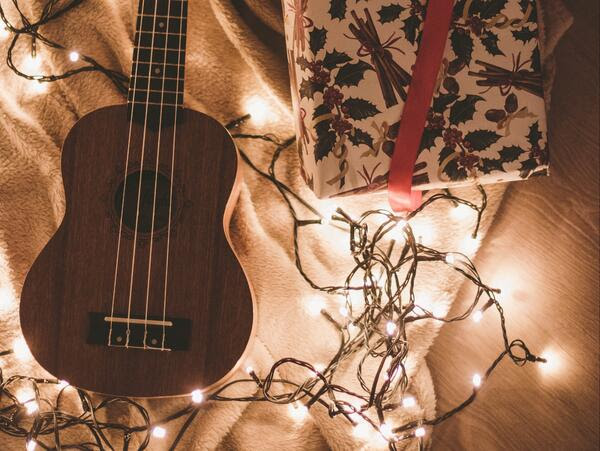 Join volunteers with the Santa Clara Valley Open Space Authority to celebrate the holiday season with a family-friendly sing along. Volunteers and local musicians, Ed and Cathy Hegstrom, will perform and lead attendees in song. Everyone is welcome to tune in and sing along!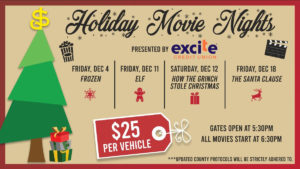 The San Jose Giants are hosting four family-friendly holiday drive-in movie nights featuring popular holiday films. Admission includes a bag of kettle corn and a goodie bag provided by the event sponsor, Excite Credit Union.
December 4 – Frozen
December 11 – Elf
December 12 – The Grinch
December 18 – The Santa Clause
German Holiday Market – November 20 to December 20 – Virtual event

This year the annual Downtown Mountain View German Holiday Market, which brings the European Holiday Market experience to our community, has gone virtual. The event's 2020 website will simulate the market experience by offering gifts by local vendors, information, and virtual tours that share the German Weihnachtsmarkt traditions.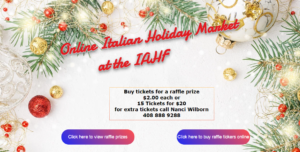 The Italian American Heritage Foundation is hosting an online Holiday Market this year with virtual events, pre-recorded holiday cooking videos, music, and travel videos.
Look for Neighborhood Light Displays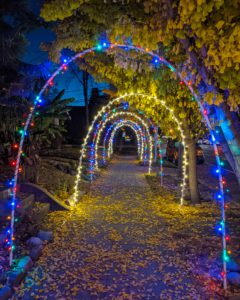 The Northside Neighborhood (is again!) decorated with more than 1,600 (!) colorful hoops of light in candy cane and holiday colors, so it's a nice area to drive through or enjoy on an evening walk. (My block just swapped our orange and purple Halloween lights out yesterday, now our hoops alternate between white and multicolor lights). The Northside neighborhood is roughly bordered by Julian St in the South, Hedding St in the North, 6th Street in the West, and 21st-23rd, along the Coyote Creek in the East.
You can find other local residential light displays in your area on the website CaliforniaChristmasLights.com.