While Halloween in San Jose looks quite a bit different this year, our creative and resilient neighbors have organized a number of local events and safe ways to capture the fun of this colorful season.
Here are some of the upcoming Halloween and Día de los Muertos events and other ways to celebrate this year. Please wear a mask and keep a safe distance from others when attending in-person events. (Scroll to the bottom for other tips from our county public health officials for Halloween safety this year.)
List curated by me, Cassie Kifer, author of Secret San Jose: A Guide to the Weird, Wonderful, and Obscure. For more local stories and things to do year-round, pick up a copy of the book here. 
Know an event I missed? Let me know, and I'll add them here!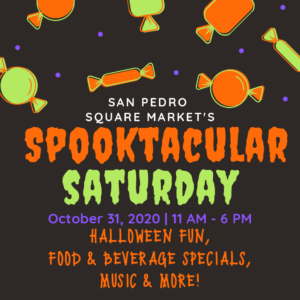 Join the local businesses at San Pedro Square Market to celebrate Halloween with food & beverage specials, music, and more on the outdoor patios from 11 am to 6 pm. Guests are invited to wear their Halloween costumes.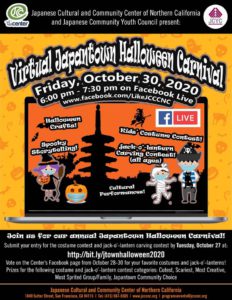 While most years Japantown hosts one of the most popular local family-friendly Halloween celebrations, this year the neighborhood is hosting a few different virtual celebrations, including this one hosted by the Japanese Cultural and Community Center of Northern California (JCCCNC) and Japanese Community Youth Council (JCYC). Join from home starting at 6pm on Friday 10/31, and enjoy Halloween crafts, spooky storytelling, cultural performances, virtual costume parade and contest, and a virtual jack-o'-lantern carving contest.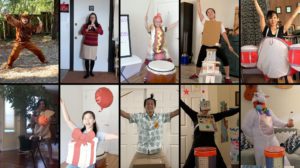 Join San Jose Taiko for fun Halloween taiko performances from Lotus Preschool, SJT's Junior Taiko Performing Ensembles, SJT's Seniors Class, and of course, their professional performance company. The festivities start at 5pm on SJ Taiko's YouTube channel.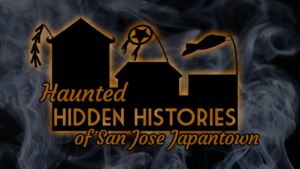 Evil spirits in a bedroom… visits from a dead uncle… a desperate disemboweled ghost! Tune in at 6 pm on Halloween to hear spooky stories set in the old days of San Jose Japantown. This program will be hosted by Curt Fukuda, local documentarian and archivist for the Hidden Histories of San Jose Japantown project. The program will feature ghost stories told by Hidden History Community Advisory Panel Members Robert Ragsac and Connie Young Yu, and a recorded performance by famed playwright, performer, and storyteller Brenda Wong Aoki. Have a story to share? They are inviting community members to share their own hidden histories! RSVP here.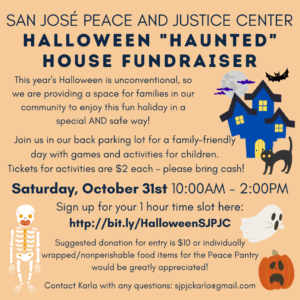 The center will be hosting a family-friendly outdoor Halloween carnival from 10 am to 2 pm on Halloween, with limited admission. Book your 1-hour time slot here. The suggested donation for entry is $10, plus $2 each for activity tickets. All proceeds benefit the center's social justice organizing work.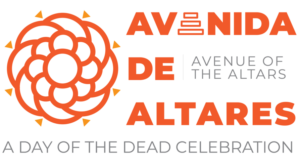 Avenida de Altares, or Avenue of Altars, will be a free drive-thru Día de los Muertos (Day of the Dead) event at the Mexican Heritage Plaza. Attendees are invited to drive through a colorfully lit row of outdoor memorial altars created by local artists. There will be live music, skeletons wandering the altars, free goodie bags with candy and art kits for kids, and the chance to win gift certificates for Eastside restaurants.
Aztec Dancing & Day of the Dead Celebration – Live event – Friday 10/30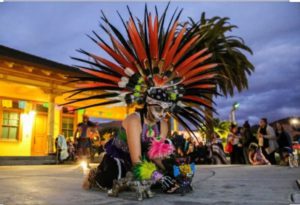 Join a local Aztec dance group in Backesto Park to celebrate Day of the Dead, and remember the lives of our loved ones who have passed away. The group invites attendees to bring photos of lost loved ones, fruit, and flowers to add to an altar the community will make together from 4:30pm-5:30pm. The Aztec dancing will go from 5:30pm-7:30pm, with dancers dressed in ceremonial regalia.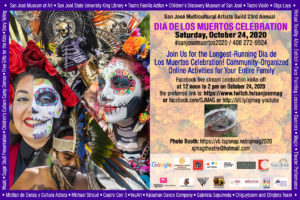 The San Jose Multicultural Artist's Guild has organized the longest-running Día de los Muertos celebration in San Jose. This year the event went virtual last Saturday (10/24), but you can still view the recording here.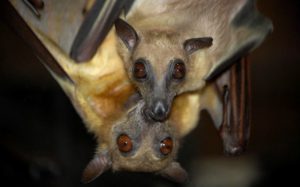 Join Saved by Nature and partners to celebrate Bat Week! How do you feel about bats? Are they scary creatures to you? Join this event to learn how bats play an important role in our environment and economy. They consume their body weight of insects every night and take the night shift in pollination to many of our favorite plants. Over 300 species of fruit depend on bats for pollination. Come learn more about these amazing animals in a fun and rare live bat presentation (presented virtually) by Incredible Bats!
Halloween BioBlitz – Live outdoor event – Saturday 10/31

Join Keep Coyote Creek Beautiful and BioBlitz.club on Saturday morning to catalog and document all of the creepy, crawly living things that reside along the Coyote Creek. They will have experts in various fields to help guide participants through all the cool plants and wildlife.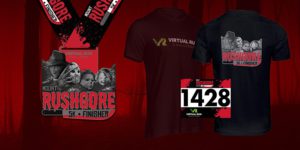 Do this 5k (3.1 mile) run or walk on your own or with friends and get this creepy medal & t-shirt featuring your favorite slasher movie villains.
Go on the Hunt for Spooky Halloween Decorations!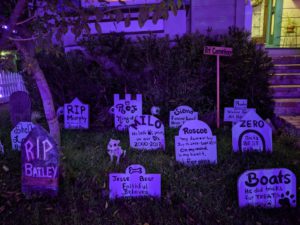 Some local families go all out to create extravagant displays at their home each year, including the Harry Potter House (6352 Felder Dr.) and the Albertson Halloween House (497 N 16th St). Both homes will be lit up evenings, Thursday, 10/29, through Sunday, 11/1, this year.
Also, here's a crowdsourced map of houses in the Northside neighborhood that are decorating for Halloween. Also, check out NextDoor in your community. Their "TreatMap" feature includes homes that are decorating for Halloween.
Enjoy the twinkling Halloween lights in the Northside neighborhood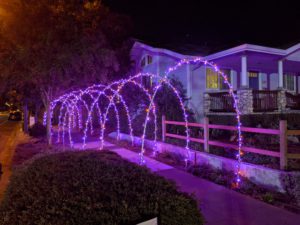 More than 200 homes across the Northside neighborhood have installed colorful lighted hoops over their sidewalks, creating colorful tunnels of purple and orange light you can walk through past dark. This community-led project was organized by a neighbor to provide a fun and safe activity for local families in the absence of trick or treating this year. Every evening, I hear squeals of delight from kids running through the tunnel of 17 hoops of twinkling lights that my neighbors and I installed on our block. The Northside neighborhood is roughly bordered by Julian St in the South, Hedding St in the North, 6th Street in the West, and 21st-23rd, along the Coyote Creek in the East.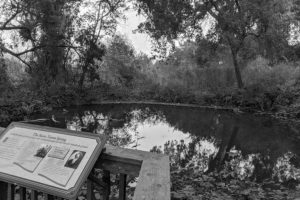 Last week, I put together this list of 5 local haunted places that you can visit right now. Check it out!
Visit a pumpkin patch!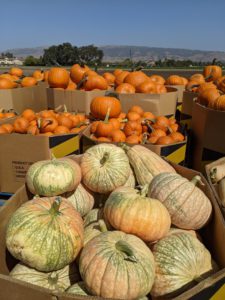 There are still a few days remaining to visit one of our local family-run farms to pick up your pumpkins and seasonal gourds and capture some colorful Instagram pics. Here are some of my favorite local farms:
---
How to Celebrate Halloween and Día de Los Muertos Safely & Prevent Spreading COVID-19 Among Friends and Neighbors
Source: Santa Clara County Public Health Department [downloadable graphic]
LOWER RISK: Stay home, keep it small
Celebrating Halloween traditions like carving pumpkins or a scavenger hunt-style trick-or-treat search with your household members in your home.
Visiting an outdoor pumpkin patch, while wearing a mask and maintaining distance from others.
Carving or decorating pumpkins outside, at least 6 feet apart while wearing masks, with a very small group of neighbors or friends. Fewer people with more distance is safer.
Having a virtual costume contest.
Dressing up your house, apartment, living space, yard or car with Halloween decoration or decorating homes with images and objects to honor deceased loved ones.
Preparing traditional family recipes with members of your household.
Playing music in your home that your deceased loved ones enjoyed.
Making and decorating masks or making an altar for the deceased.
Participating in vehicle-based gatherings that comply with state and local guidance like drive-in movies and drive-through attractions, or car/bike parades where participants do not leave their vehicles.

Avoid driving in areas where there are many pedestrians.
Spectators should watch from their homes or yards and not gather with people they do not live with.
MODERATE RISK: If you must
Participating in one-way trick-or-treating where individually wrapped goodie bags are lined up for families to grab and go while continuing to physically distance (such as at the end of a driveway or at the edge of a yard)

Wash your hands with soap and water for at least 20 second before and after preparing the bags.
Ensure everyone is wearing an appropriate face covering and maintaining a physical distance from others.
Everyone participating should bring hand sanitizer and use it frequently AND wash their hands immediately after coming home.
Candy shouldn't be eaten while outside the home because that would require both removing the face mask and touching wrappers.

Having a very small group, outdoor, open-air costume parade or movie night where people are distanced more than 6 feet apart and are wearing masks. Fewer people with more distance is safer.
Enjoying themed outdoor dining that complies with state and local guidance or takeout.
HIGHER RISK: Please avoid
Participating in traditional trick-or-treating where treats are handed to children who go door-to-door. Although this activity is outdoors, it is higher risk because it brings multiple people from different households together.
Traveling to a rural fall festival that is not in your community if you live in an area with community spread of COVID-19. Doing so can bring COVID-19 into the area and threaten the residents' lives.
If trick-or-treating is occurring in your neighborhood and you are at home and do not want to be disturbed, you may want to post a sign or turn off your porch light.
VERY HIGH RISK or not permitted by State and Local Orders
Attending a crowded party held indoors or outdoors. Large gatherings, even if they are outdoors, are high risk for spreading COVID-19 and are associated with many cases throughout the Bay Area.
Sharing, eating, drinking, speaking loudly or singing amongst others outside of your household.
Haunted houses or indoor mazes.
Having trunk-or-treat where treats are handed out from trunks of cars lined up in large parking lots.
To further protect yourself and your loved ones, be sure to monitor yourself during the 14 days after these holidays and pay particular attention from days 3 – 7 after the holidays when you are most likely to develop symptoms. If you don't feel well or you learn someone you had close contact with tested positive, get tested immediately and stay home until your appointment and while you wait for your results. To learn more about symptoms and testing, visit sccfreetest.org.​​​​​​​​​​​