We all know that heartbreak inspires the best love songs – and also, apparently, local lore.
As we head into Valentine's Day this weekend, I wanted to share some local places in and around San Jose that are rooted in stories of lost love.
Take a friend that you can trust not to break your heart…
Want more San Jose secrets? Pick up a copy of my book, Secret San Jose: A Guide to the Weird, Wonderful, and Obscure. 
1. James Lick Mansion & Mill – 502 Mansion Park, Dr, Santa Clara
While James Lick is most famous as the namesake and benefactor who funded the construction of the University of California's Lick Observatory, the Gold Rush-era San Francisco real estate tycoon also had a South Bay mansion and ornate grain mill that he built to win his lover's hand in marriage.
As a struggling young man starting his career in Pennsylvania, he wanted to marry his childhood sweetheart but her father denied it because Lick was not wealthy. Her father was a mill owner and said he wouldn't allow them to marry until Lick had a mill equal to his own: "When you own a mill as large and costly as mine, you can have my daughter's hand, but not before." He left promising, "Someday, I will own a mill that will make yours look like a pigsty!"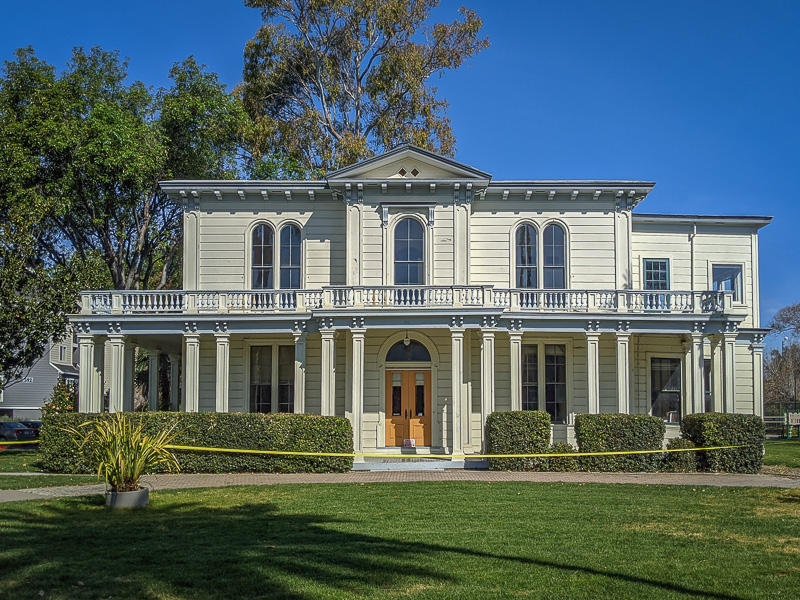 He left Pennsylvania to pursue other opportunities, first in South America, and later in California, buying up parcels of land in San Francisco as people fled the city to try to strike it big during the Gold Rush. These investments paid off and he soon became the wealthiest man in California. He still hoped to win back his girlfriend, so in 1855 he completed a lavish grain mill that used the most expensive machinery and filled it with the finest woods and custom woodwork. Observers called it "the Mahogany Mill" and "Lick's Folly."
He had the mill photographed and sent copies of the images back to Pennsylvania. Unfortunately, by that time, not only had the father that he hoped to impress died but so had Lick's girlfriend.
You can see James Lick's mansion and the mill's old granary hidden inside the aptly-named Mansion Grove Apartments in Santa Clara. This is a private and gated community so you are not allowed to drive your car in.
2. The neighborhood of Naglee Park
One name many San Joseans recognize is Henry Morris Naglee, a respected civil engineer and Civil War general turned orchardist and brandy distiller. In 1902, his downtown San Jose property was converted into San Jose's first residential subdivision, Naglee Park. But this esteemed general was the victim of an early and high-profile case similar to what we call today, "revenge porn."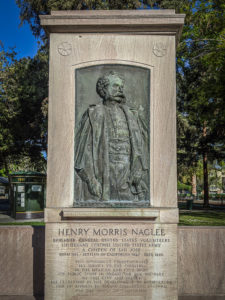 A scorned lover published a book of all the private letters he wrote to her during wartime to show how he made repeated promises to her of his love and commitment. In The Love Life of Brigadier General Henry M. Naglee (published in 1867, read it for free on Google Books), Naglee's former lover, Mary L. Schell, shared deeply personal letters that the General had written to her before they broke up. The book's preface explains what was to come. "All are seasoned with a 'passionate' flavor that cannot fail to tickle the palate of the most sensational epicure." In letters that start, "My darling baby," "enchantress," or "little love," Naglee poured his heart out about fears and anxiety, illnesses he had suffered, including typhoid fever, and bitter disagreements with his superiors, including the actions of President Lincoln. In the most scintillating exchange, he included a hand-drawn nude drawing of himself doing pushups in his bathtub every morning to show off how strong he was. Another calls out, "Don't tell anyone, nor show our letters, will you, love?"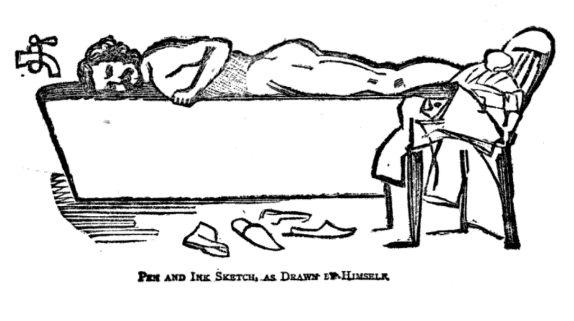 Naglee's home built in 1864, the oldest in the neighborhood, still stands. It is a private residence now subdivided into apartment units at 99 S. 14th St.
3. The Winchester Mystery House – 525 S. Winchester Blvd, San Jose
The popular narrative of San Jose's most famous oddity, says that its construction was driven by sadness and superstition based on lost love.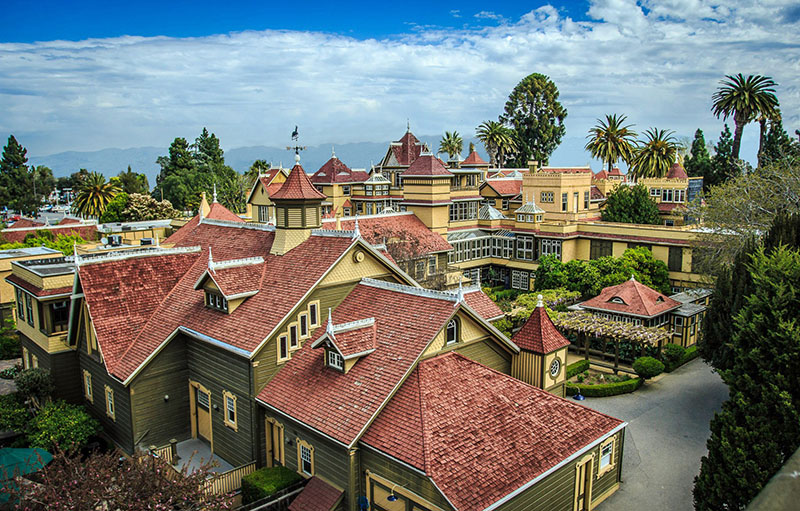 As the legend goes, Sarah Lockwood Winchester was a wealthy Connecticut widow said to be overcome by grief after the death of her husband and her infant daughter. She sought guidance from a psychic who told her to move west and build a house nonstop for the rest of her life to appease the spirits that haunted her. It was said that these spirits were the ghosts of those killed by Winchester brand rifles, the weapon that brought her family great fortune. Over the next 38 years, Winchester built a sprawling 24,000-square-foot and 160-room mansion, riddled with strange architectural features, such as doors that open to blank walls and second-story drop-offs, and staircases that lead straight into the ceiling.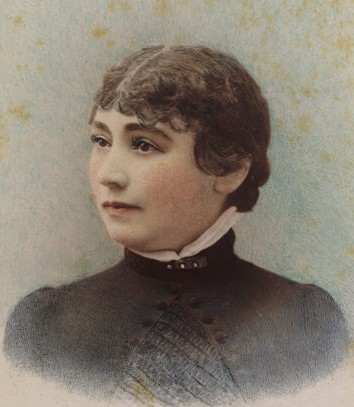 Despite these legends, historians and people who knew her say that there's little evidence for these supernatural tales and suggest instead that Winchester was a private person, unfairly targeted by the sensationalist media of the day. These narratives were exaggerated by the amusement park builders who acquired the home and opened it up for "House of Mystery" tours just months after her death. Historians point to how Winchester was an avid but self-taught architect. She saw the house, one of several she owned in the Bay Area, as her "hobby house," a place where she could experiment with new styles, ideas, and methods. She never worked from a centralized plan and lacked formal education in design, which could account for the eclectic construction and projects that just didn't work. Correspondence shows she often took extended breaks from construction for months at a time, especially after the Great 1906 earthquake, which caused severe damage to the house. She was heartbroken by this loss and chose not to rebuild portions, choosing instead to just clear the rubble, admitting once that the house now "looked as though it had been built by a crazy person."
While Winchester had lost both her husband and father-in-law shortly before she decided to move West, her infant daughter, said to be another source of grief, had died almost 20 years before. Sarah was said to have lived an otherwise happy and normal life during that time.
Haunted or not, it's worth seeing Winchester's quirky labor of love in person. Information about their new recently re-launched outdoor self-guided tours is available on the Mystery House website.